Pricing.
A tier for every website.
FastComments
For Individuals
All the features. A million page loads a month.
FastComments Unlimited
For Corporations
Developer Support
No Traffic Limits
Migration Support
FastComments Pro
For Organizations
Developer Support
Five million page loads a month
* before tax and excluding base monthly fee.
Pricing subject to change.
Compare to The Competition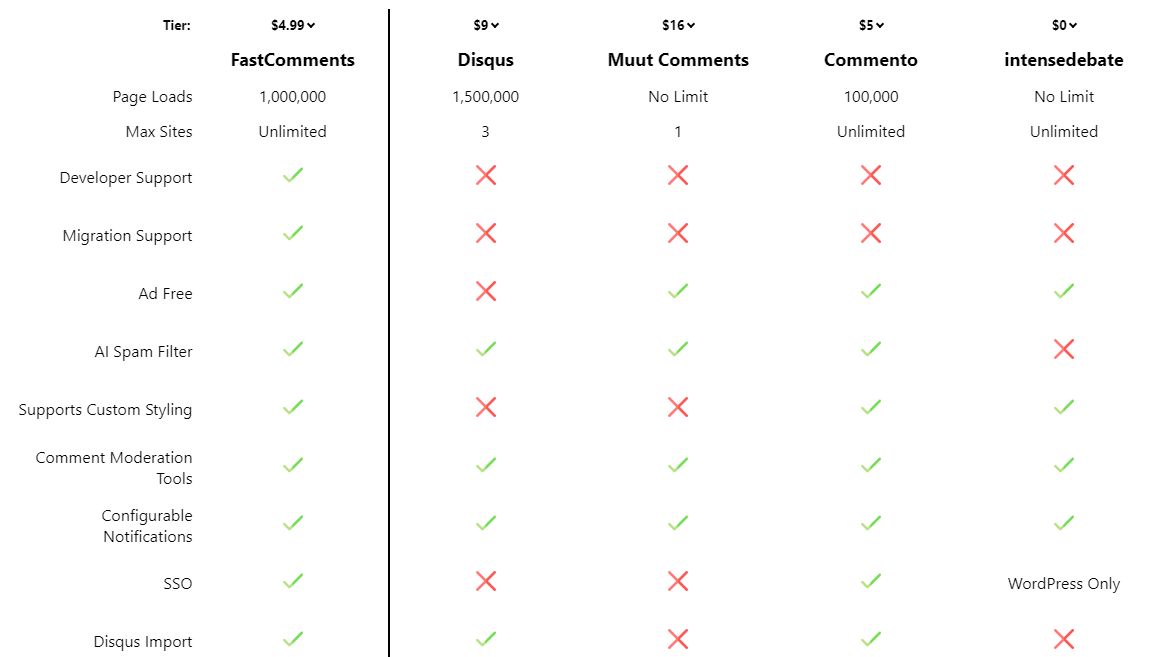 Trusted by
119 organizations
and
4,803 commenters
.
Served 11,413,333 page loads this year.
Like what you see?
FastComments works well for almost anything you can think of embedding comments on including blogs, landing pages, news sites, and product pages.
Get all the features. It's not an option.
Every tier gets you:
Ad-free experience, no data harvesting.
Fight Spam - We use a Naive Bayes classifier for spam detection. Also, unverified comments get automatically removed.
Live commenting and voting.
Ability to moderate content.
Configurable notifications for you and your users.
Ability to import from Disqus, Commento, IntenseDebate, Muut Comments, and WordPress. Automatic image/avatar migration.
Ability to export your data at any time.
Ability to have multiple moderators for your site.
SSO Integration.
Webhook Integration.
Ability to upgrade to paid or enterprise plans.
Get Started
FastComments Features
In addition to the above, the FastComments commenting system has:
A comment UI that fetches comments and renders in milliseconds to prevent disengagement.
Very Fast Time-To-Engage: No complex sign up process for your users.
Secure Password-less Account Management (email-based login links).
Up-vote/Down-vote Support.
Sorting by Date+Votes.
Threads (replies to replies) along with reply notifications for engagement.
An unobtrusive UI - no modals or behavior that distracts from your content.
Users get notified when someone replies, and you get notified of new comments to moderate. We also aggregate emails, so if you receive a hundred notifications in an hour we'll just send one summary email.
Anonymous commenting (unverified comments auto removed after three days)
Image support Commenters can attach images to their posts.
Localization The client-side widgets and emails are fully localized in English, French, German, Spanish, Italian, Polish, and Russian using browser locale detection.
Full-Text Search through all of your comments.
Markdown support for a rich text commenting experience.
SSO Give your users a seamless commenting experience with our secure and easy HMAC-SHA256 based single-sign-on system.
Adaptive Adapts to your site - whether it has a light or a dark theme.
Webhooks FastComments supports webhook based integrations for comments.
GDPR FastComments is GDPR compliant. See our Privacy Policy for how we manage user data.
Solutions for Enterprise
Stuck with vendor lock-in? We can help! FastComments provides migration support from:
Disqus
Commento
Muut Comments
WordPress
You may read about these features in more depth on our
blog.